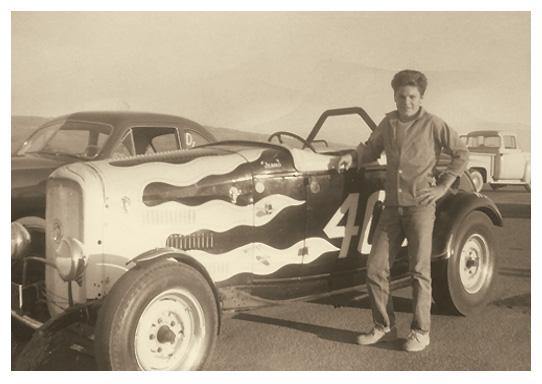 Bob Drake has been fascinated by cars since his boyhood years in Kenosha, Wisconsin. He was introduced to body and paint work by his father. His first love was a 1934 Ford Victoria that caught his eye as a young boy and he chased the rare old Ford down the street in fascination. "Why did the doors open backwards?" he wondered.
Bob at age 13 poses with the famous 404 deuce racer in 1956 at Cotati, near Santa Rosa, California.
Bob began studying and learning more and more about early Fords as they
became very popular with both hot rodders and restorers. In his final year of high school, his family moved to southern California where he graduated from Culver City High School in 1962 and began working there as a draftsman for Ampex Computer Products.
By the mid-1960s, Drake had also developed an avid interest in trading pre-'50s Ford cars and parts at swap meets. In 1971 he and his wife Pat began manufacturing early Ford parts in their home garage in Woodland Hills, California: Their first products were authentic reproductions of glove box interiors for 1933–1934 Fords. With mentors such as Henry Ford and Thomas Edison, the young Bob Drake was inspired to work hard and strive for success.
Bob at his home in the mountains of southern Oregon with his '40 standard coupe and '32 hiboy roadster.

During the past 47 years, Bob Drake's inventory of parts has grown to over 7,000 products including many innovative hot rod parts, adding contrast to his dedication in serving purist early Ford restorers. His original one-man garage operation now employs a staff of over 40 and is housed in three buildings with a combined space of over 75,000 square feet in Grants Pass, Oregon. The  company is the industry's leader in manufacturing Ford parts for 1932–1948 cars and 1932–1966 pickup trucks. Many of the parts are based on original, new old stock specimens Bob has wisely gathered in his years of attending old car swap meets or from many friends in the early Ford world. In 1994 his company was among the first chosen as a model by Ford Motor Company to participate in developing Ford's Officially Licensed Product program.


Assembling his first reproduction chrome plated part, Bob puts the screws to one of his 48-18416 locking gas caps. January, 1973.

Today Bob Drake offers thousands of parts approved and licensed by the Ford Motor Company. The Drake Team also secures US patents for new parts that solve age-old problems such as replacement door hinge kits for 1937-40 cars which feature a unique inner-door mounting bridge that allows users to easily mount the hinges to the doors without any welding, unlike the originals. Another patented part is the Adjusta-Pedal,  (horizontal adjust) which allows easy custom positioning of the brake and clutch pedal pads for added safety and comfort. This item also won "Best New Product" award as given by the National Street Rod Association in 2009, with Bob's Uni-Flex Fuel Filler Hose winning the same award in 2008.

The company has its own in-house art department which has produced numerous award-winning catalogs and advertisements, as Bob Drake's early Ford V8 parts catalog has grown to over 600 pages, and is recognized as the Bible of the industry. Bob is an active and energetic member of his marketing team and participates hands-on in the production of all catalogs, magazine ads, product packaging, trade show displays and other virtual representations.
Bob stands with a portion of the tooling for making the 1934 car grille in 2000. Several tons of steel and 30 different processes are needed to transform a of sheet of steel into the final shape, then ready for chrome plating.

The company consistently earns annual awards and recognition from organizations such as SEMA, National Street Rod Association, The Early Ford V8 Club of America and others for a wide range of unique efforts in manufacturing and promotional achievements gaining trophies for "Best Catalog", "Best Booth Display", "Best New Product" and so-on. Bob Drake and his company also support many automotive related organizations and non-profit groups while continuing efforts for sharing in the education of the old car hobby.

Bob's love for old Fords is ever growing as each new year brings bigger challenges set by himself. In fact, his unique interest propelled him into reproducing an all-steel 1940 Ford 5-window coupe body, combined with dozens of other related steel body components which offer his customers the ability to build an entire '40 coupe using all fresh, new body parts. Those who already have a '40 Ford coupe now have additional all-steel replacement parts available such as doors, quarter panels, fenders and deck lid. This huge task is now in it's final stages and has been dubbed by many in the auto parts industry as being "the old car project of the decade". A very fitting achievement as Bob Drake already manufactures and sells the world's largest variety of 1940 Ford parts in the industry.

The look of the parts brilliantly displayed in the catalogs is deceiving. Behind the simple beauty of these parts are complicated and demanding manufacturing processes involving cutting-edge CAD (computer-aided-design) engineering, a variety of casting and mold-making techniques, extrusions, metal die stamping, fabrication and detailing. Bob Drake and his skilled research and development team painstakingly map out the processes for each individual part.

Over his career, Bob Drake has amassed a museum-worthy collection of Ford Motor Company memorabilia, including dealer wall posters, manuals and signs; Ford fliers and advertisements; cutaway motors, ad displays and other rare collectibles on display in his own museum for which he loves to share stories about. And of course, Bob has extensive knowledge about the history of Ford Motor Company, as well as the cars and parts they produced.

Bob's collection also includes Ford vehicles: a black-lacquered old-school style 1932 hiboy roadster (less fenders and running boards) built in 1977 by Dick Magoo, another '32 hiboy roadster painted in Ford blue, a 1939 Cab-Over stake bed truck, a black 1940 standard coupe with factory-original paint, a black 1949 convertible also with factory-original paint (the actual car that appeared in the 1955 James Dean–Natalie Wood movie Rebel Without a Cause), a black 1965 Mustang GT fastback, and a red 1966 Mustang GT convertible.

Beyond the Ford memorabilia, Bob Drake has also assembled an impressive collection of automotive art, with more than 50 paintings by the famed LA/Portland car artist Roy Jones, who claimed to be influenced by artists Jan Vermeer and Andrew Wyeth. The collection also includes fine works by renowned artists Dan McCrary and Randy Giovenale.

New products are always exciting as Bob proudly displays his spring shackles in 2009.