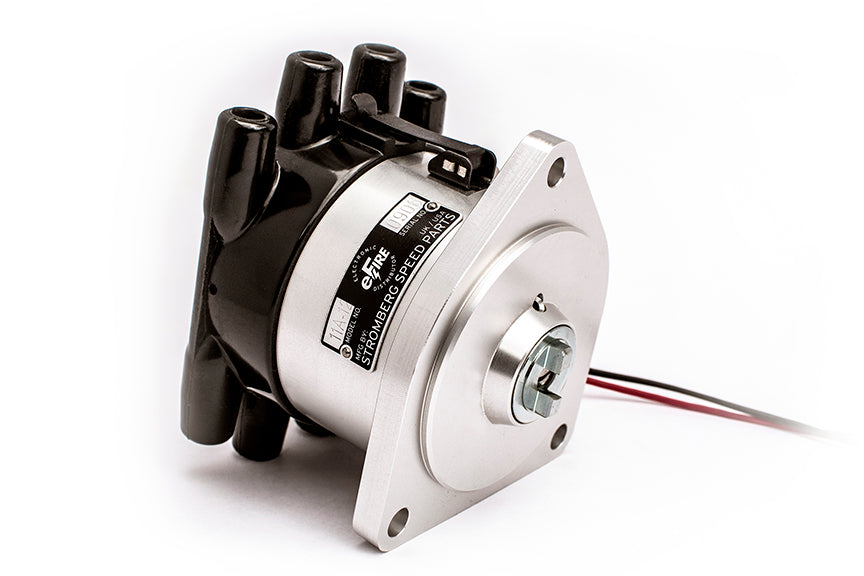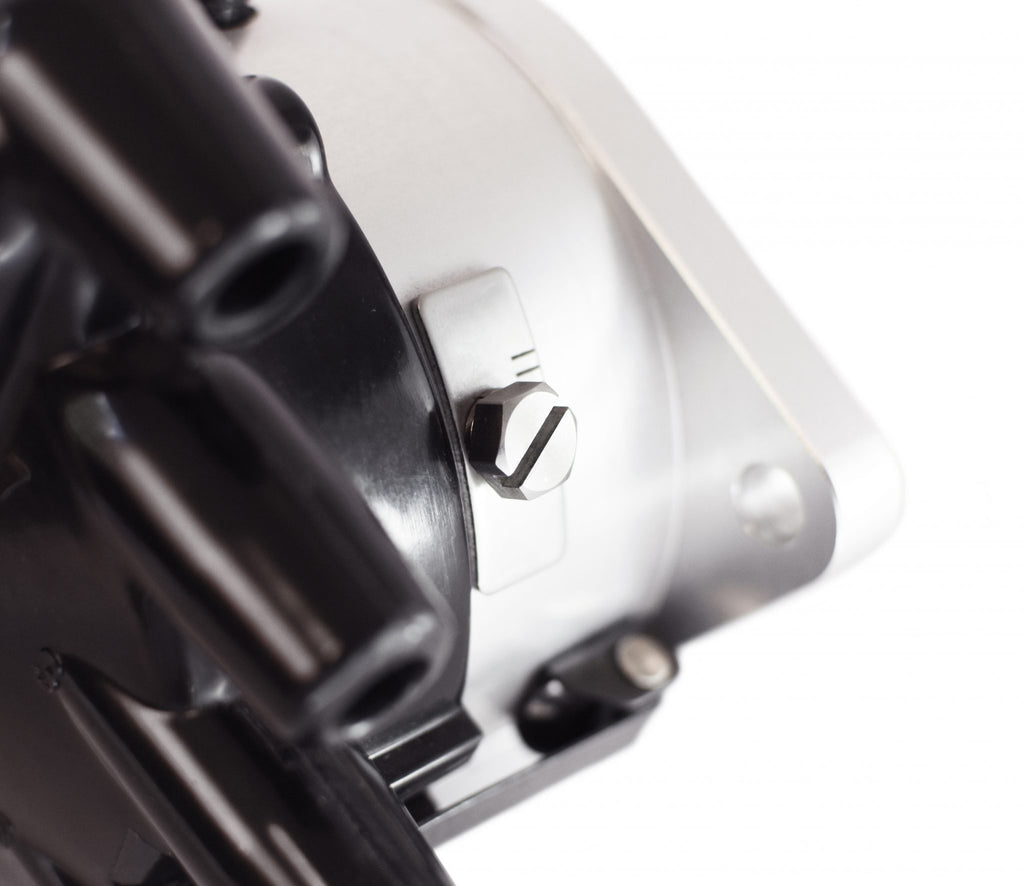 3-Bolt Mount Electronic Distributor (12V); 1932-41 Flathead
Hankering to upgrade to electronic ignition, but don't want to sacrifice the traditional flathead look? Don't worry - upgrade...
Hankering to upgrade to electronic ignition, but don't want to sacrifice the traditional flathead look? Don't worry - upgrade your flathead's ignition power and reliability with Stromberg's e-FIRE electronic ignition solution. Easy to install and set-up, simply mount and run two wires to your coil. The advance rate and max total advance have already been tuned to suit the flathead V8. You'll immediately feel and appreciate the quick response and power on the pedal.
Crab-Cap style cap with built in electronic ignition. No points, no condenser, no black (or red) box and no worries.
Looks like it belongs with black cap, stock style mounting, old-school ID tag and side positioned static timing adjuster.
Higher efficiency, economy and accurate spark timing. Run two wires, bolt on and blast off.
Short aluminum body, no need to fight for space.
12-volt, negative ground.
Seeking the 2-Bolt mount (1942-48) distributor? Check out
21A-12130-12E
.
WARNING: Not for use with a low resistance HEI style coil. Compatible with a points style coil only with a minimum resistance of 3.0 Ohms or 1.5 Ohms with ballast resistor.
All items to be returned, whether flawed or incorrect merchandise can be returned within 30 days of original ship date. ALL returns may be subject to a 15% restocking fee.
TO RETURN AN ITEM
Call customer service at 800-221-3673 from 8:00 to 4:30 PST, Monday through Friday. They will issue you a Return Material Authorization Number (RMA#). Display this RMA# visibly on the outside of the return packaging. Enclose a copy of the original invoice with the returned merchandise. All returns must be pre-paid shipping and fully insured. We do not accept collect shipments or unauthoized returns. When the return is due to our error, we will refund the pre-paid freight charges and immediately exchange the item(s) or provide a refund.
The following items have a NO RETURN/NO REFUND policy:
Voltage Regulators
Voltage Cutouts
All Electrical Items
Books & Publications
Videos
Posters
Glass Patterns
Wood Items
Computer Software
Foreign Shipments
Special Orders

DAMAGED SHIPMENTS
Upon receipt of an obviously damaged package, you have the option to refuse delivery and the order will be returned to BDR. Or you can recieve the order making not of visible damage in writing to the carrier. If upon inspection of the parts you find damage due to the carrier's handling you then have 48 hours to file a claim with the carrier. DO NOT RETURN THE DAMAGED PARTS TO BOB DRAKE REPRODUCTIONS. Keep the package and parts as close as possible to the condition you recieved them.Without the pacjage the carrier will void your claim. Claims for shortages due to carrier negligence must be made within 5 working days of receipt of merchandise.